Aalborg is a multi-faceted city - full of contrasts. A city with a lust for life and all of its pleasures. It's also grand on a manageable scale. All the major city attractions are concentrated within easy distance. From fast-paced fun to peaceful oases. From a foaming draft beer to sublime gastronomy. From the Viking Era to the Middle Ages, to modern art.
The city's recently restored waterfront has much to offer for the outdoor and curious visitor. With its many open-air sports and recreational areas, the waterfront invites both active guests and those with lust for life.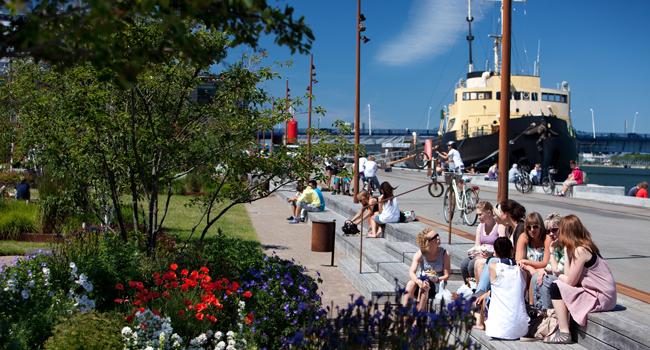 Aalborg waterfront
Near the waterfront you will find both the new Nordkraft and the architectural astonishing Utzon Center.

The Utzon Center at Aalborg Waterfront - in the background the Aalborg Tower and Budolfi Church
Until recently, Nordkraft supplied the people of Aalborg with electricity. But now the old, coal-fired power station in the centre of Aalborg generates a completely different kind of power – Culture Power. The new eagerly awaited cultural powerhouse of Aalborg Nordkraft opened its doors in 2009. Nordkraft brings together culture, sports, and recreation, combining sports facilities, a cinema, theatres, and restaurants under one roof – all in a fusion of contemporary architecture and authentic industrial styles that create a very special atmosphere. With its unique, raw and industrial yet still stimulating look, Nordkraft truly reviels the identity of Aalborg.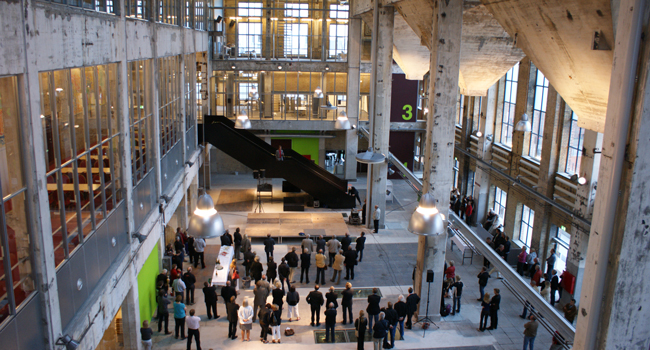 Until recently, Nordkraft supplied the people of Aalborg with electricity. But now the old, coal-fired power station in the centre of Aalborg generates a completely different kind of power – Culture Power.
Right next to Nordkraft is the Utzon Center, both situated at Aalborg waterfront. The Utzon Center was the last work of the Aalborg-born architect Jørn Utzon who also designed the world famous Opera House in Sydney. He described Utzon Center as "a place where good thoughts could come together and… a centre of excellence for architecture and humanity in the future."
Aalborg has around 1,700 hotel rooms in the city centre, all of them within easy walking distance. Hotels are available in all styles: Crisp minimalism, a refined gentleman's club at­mosphere, or classic Scandinavian modernism. Aalborg has it all. The hotels have ratings up to four stars; no matter what category you choose, Aal­borg offers exceptional value for money.
The City of Aalborg
The City of Aalborg has created a municipality where growth, knowledge and welfare are top priorities. Now the course is set towards the future. Storm P, a well-known Danish artist and humorist, once said that "nothing comes of itself alone, except fluff". If we want change, we must act. And this is one area in which Aalborg has excelled as a city and municipality. Aalborg has gone from industrial town to modern knowledge city with a global perspective. The international perspective, in particular, has been decisive for the local development. With an original, high-quality education and research environment, higher education, with Aalborg University as its flagship, has put our university city on the world map.
Aalborg's history
Aalborg is characterized by past eras. In and around the city, you will find relics of the past with stories to tell. The city's roots go far back, and Lindholm Høje's spectacular gravesite and dwellings are good examples of that. Lindholm Høje stems from the late Iron Age and Viking Era, and it is a magical and impressive sight that meets you as you stand and gaze at Lindholm Høje's 700 or so graves and 150 stone ships distributed throughout the hills. Lindholm Høje was buried in sand in the 9th century due to heavy sand storms that ravaged the area and sent the Vikings fleeing. Aalborg's location at the salty fjord, Limfjorden, made the city a natural choice for a merchant town. In 1342, it became a reality, and the town quickly became one of Jutland's (Denmark's mainland) largest market towns. Naval officer Skipper Clement was one of Aalborg's best known figures of the 1500s, and he initiated an uprising among peasants in the town during the civil war, The Count's Feud, in 1534. Skipper Clement's forces were captured in Aalborg, and the 7,000-8,000 men died in an enormous massacre. Skipper Clement was later captured, and in 1536 he was executed at Viborg's parliament.

Jens Bang's House is a fine example of renaissance domestic architecture built in 1624 by the wealthy merchant Jens Bang. Despite the fact that Jens Bang was Aalborg's wealthiest man, he never became a member of the town government which is the reason why he is sitting at the house end sticking out his tongue at the town hall.
In the 1800s, industrialization came to Aalborg, and many factories sprouted up. The town became known for its many industrial smokestacks. The cement factory Aalborg Portland is a product of that industrialization, and in 2014 it celebrated its 125 year anniversary.
Aalborg has undergone a huge transformation, and the city is no longer only known for its industrial past. Recently acknowledge as Europe's Happiest City (Feb 2016), today Aalborg is also an attractive city for youngsters and students, and a cultural gathering point for diverse cultural institutions and leisure opportunities.
Aalborg – youth and university city
Aalborg is an active youth and university city. Aalborg has a clear vision of being Denmark's best youth city, and for that reason, youth have a high priority here. In recent years, much has been invested in Aalborg's power of attraction, so young people come to the city to study, live and work. Turning Aalborg into an attractive university city has been an overwhelming success. The number of students has grown, and the huge boom is also reflected in the population figures, where, today, one in five residents of Aalborg Municipality is a student. In order to meet students' housing expectations, approx. 4,500 new student housing units for youth has been and is being built in Aalborg in the period 2009-2016.
Not only Danish students choose to study in Denmark, around 2,500 international students live and study in the city. Aalborg Municipality takes care of the new students with its "Roof-over-your-head guarantee". The housing guarantee applies to all new students seeking a place to live through a student housing organization. Aalborg Municipality has prioritized offering students the opportunity to live in attractive and centrally located youth housing. Larsen Waterfront is one of the newest constructions – a 15-storey building with 251 student flats at Aalborg Waterfront, which you will find when you stroll through the city.
It is with great pleasure that we welcome you to the city of Aalborg!
Please feel at home when you arrive.